"Employees can work from home without any problems thanks to Telavox's cloud-based communication solution."

– Martin Berg, CTO at Lime Technologies.
About the company
Lime Technologies is an IT company that focuses on offering proprietary CRM systems. Today, they have 260 employees, listed and established throughout the Nordic region. The product portfolio consists of various software programs adapted for customer and sales organizations. Their largest target group is currently in the Nordic market.
The challenge
"No one really understood how our last solution worked"
Ten years or so ago, Martin Berg, CTO at Lime Technologies, started his career as Development Manager at IT company Lime Technologies. The company, which began as a start-up venture, develops CRM systems and has had an impressive growth rate. Today, the company employs 260 people, is listed on the stock exchange, is established in all the Nordic countries and is now looking to expand into the Netherlands.
When Martin moved on to a CTO position with areas of responsibility such as IT, he quickly realized that their existing internal communication and telephone solution no longer met requirements.
"No one had quite understood how it all worked, apart from a couple of colleagues, who ended up having to fix various problems continuously, and we had no integrated mobile phones either. Furthermore, the whole system crashed from time to time, and at that point, no one could call in or out. This did not give our customers a very good impression of us as a company and obviously caused a lot of frustration and aggravation amongst our staff members too."
The solution
Telavox won thanks to the interface
Having studied three operators in great detail, Lime Technologies chose Telavox as their new service provider. Apart from classic reasons like competitive pricing, Nordic presence and excellent service, Martin was primarily impressed by the interface and its user-friendly appearance.
"Telavox won the contract thanks to their interface; great UX means so much from a support perspective. Nowadays, our colleagues are not putting so many questions to the IT team, which I can only interpret as they are managing fine by themselves and can use the basic functions without any further assistance", explains Martin.
Once the Telavox app was updated and upgraded, Martin became even more pleased with improved readability as well as changes to the interaction design and functionality; areas that are automatically kept up-to-date.
"The app has become more intuitive and everyone will recognize the style and be familiar with the layout as the structure is very similar to the apps you use in your private life. Therefore, there is no need for a user manual", Martin tells us.
"The design language is reminiscent of the apps you use in your everyday."

– Martin Berg, CTO at Lime Technologies.
The result
A cloud-based solution in times of crisis
Another important aspect, which is highly topical right now, is that Lime Technologies has access to a business-critical, cloud-based communication solution as this is likely to make a massive difference for firms when the pandemic outbreak sweeps across the world.
"In the Nordic region, we are at the forefront of cloud-based solutions. Many people are already used to working remotely and the staff at Lime Technologies is no exception. Depending on the nature of their jobs, we already offer many of our staff members the option of remote working/working remotely/working from home. But should we need to send everyone home, this will not be an issue either, thanks to Telavox. The IT department can use and manage everything remotely, and the same goes for our customer support and many of the other departments too", says Martin.
Maintaining security should not be difficult
For Lime Technologies, much like any other software companies, information security is paramount, but they are confident these new, proposed remote working guidelines will not present a risk. Martin feels it is important to maintain a balance and to be flexible; staff should be able to work from home and use the necessary tools and applications on their laptops. He feels the same approach should be applied to their customers.
"Maintaining security should not be a difficult obstacle and Telavox is a great help in all this. You can choose to log in via your Microsoft account and then we can centrally keep an eye on who logs in from where, and when people finish we can manage that easily and swiftly as well."
New staff members understand straightaway
As far as Martin is concerned, another crucial factor for a communication solution is that it can meet the needs of a fast-growing company, where people quickly get up to speed and take on new tasks. When new staff members receive their computers and mobile phones, they should be able to just log in and start working straightaway.
"An internal initiative has been to automate routines linked to new personnel coming on board. In our trainee programme, we take in forty or fifty new staff members in one hit. We can easily set up new user details and licenses remotely, with the only physical aspect being the SIM card, but we are close to a new solution for that too when Telavox launches their e-SIM service", says Martin.
Having a personal contact at Telavox is brilliant
Behind the scenes at Telavox, Lime Technologies has a personal advisor called Morgan Arnhed, who is there to support them and is always on hand if they need anything. When required, Morgan will visit Martin and his team to demonstrate new functionalities.
Lime Technologies has also volunteered to try out new integrations, like the one between Microsoft Teams and Telavox. Martin feels that he, as a customer, has a certain influence and that Telavox listens to his input.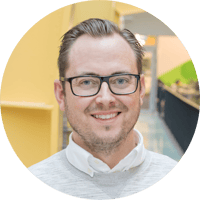 "Lime is a really fun client to work with! Martin and his team are always on their toes and they love to collaborate and develop our products together."

– Morgan Arnhed, Advisor at Telavox.
"We have been Telavox's customers since 2016 and Morgan has been there for us from the beginning. Getting started proved both easy and painless. Transferring numbers and configuring the system; all of it was done in just a few hours. I personally feel that having a personal contact is brilliant. Help is always at hand and Telavox is fast to respond if we have any trouble. If Morgan is unable to answer, he will check with the development department and will also pass on my feedback to them", says Martin.